News
Ceramics Classes
Unleash your creative potential in these relaxed and friendly ceramics classes for adults. You will work on your own project and create your own vessel which can either be functional or purely sculptural.
Suitable for a beginner or those with previous experience. You will learn all forms of handbuilding, such as working with slabs, coiling and pinching. Explore colour and texture, using textured surfaces, sprig moulds, coloured slips and glazes. Also covered is how to use silk screens to print directly on to the wet clay. Stuck for ideas? Don't worry, you will also learn how to generate and develop ideas, so you can create work that is uniquely yours!
Please contact me on amandadoidge99@gmail.com for more information.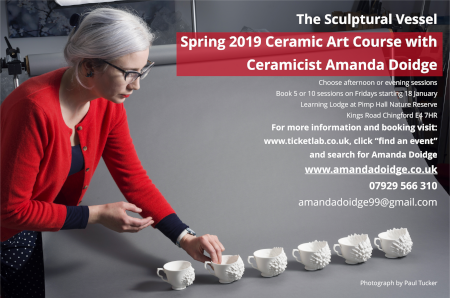 Friday January 18th – February 15th
Afternoon (1:00 - 4:00)
£199 - Click here to book
Evening (6:00 - 9:00)
£199 - Click here to book
Friday March 1st - 22nd
Afternoon (1:00 - 4:00)
£199 - Click here to book
Evening (6:00 - 9:00)
£199 - Click here to book
Please note: there is a charge of £2 per 500g of clay before firing.
Please bring:
PVC apron
Any pottery tools you already have
A plain note book or sketch book

It is advisable to bring Images, drawings or photographs of shapes, textures or objects that inspire you as a starting point for your project.
Location:
Learning Lodge at Pimp Hall Nature Reserve
Kings Road,
Chingford,
E4 7H

Free car parking available.
Full disabled access and disabled toilets.
I reserve the right to cancel the class, in which case you will be refunded.
Adventures In Ceramics And Neuroscience!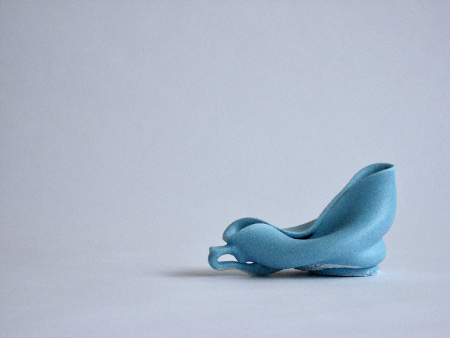 New ceramic art by Amanda Doidge, made in response to the latest developments in neuroscience, and philosophy of neuroplasticity. Also, ceramic work produced by the neuroscientists in a ceramic workshop. Throughout the exhibition the collaborators will be available to answer your questions.
Private View: February 2 Friday 2018 5-8pm (6pm project film, panel discussion and buffet)
February 3 Saturday 2018 11-6pm
in
The Anatomy Museum, Kings College
King's Building, King's College, Strand, London, WC2R 2LS
Please register your free ticket here
Find out more here
Follow us on Facebook
This is a collaborative project lead by Benjamin Dalton who is researching the concept of plasticity as articulated in French philosophy with a focus on the work of Catherine Malabou on the plastic brain. Benjamin, funded as part of Kings College London Collaborative Scheme for Early Career Researchers, brought together neuroscientists working on neuroplasticity from the Maurice Wohl Clinical Neuroscience Institute and ceramic artist Amanda Doidge, to explore themes of plasticity from the different perspectives of art, science and philosophy. This project explores the artistic, clinical and philosophical cross fertilisations that might result from a reconnection of current neuroscience with its artistic and cultural roots, asking what innovations these dialogues might propose to both research and clinical practice in the neurosciences, and creative practices in the plastic arts.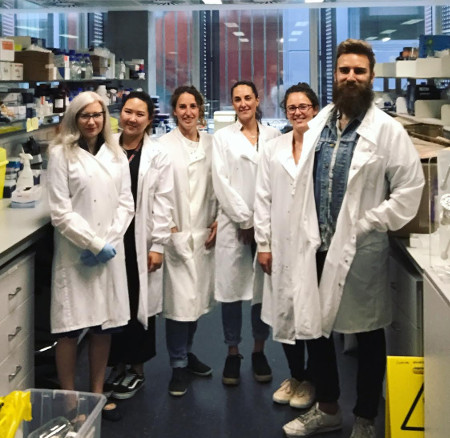 Meet some of the collaborators, from left to right Amanda Doidge, Curie Kim, Chiara De Lucia, Andrea Du Preez, Demelza Smeeth, Benjamin Dalton.