News
Artists talk
As part of the e17 art trail there was a 'walk and talk' event in Walthamstow central Library. People were given a guided tour of the art on display with the artist talking about their work while standing in front of their artwork. I gave a talk on my piece 'Socrates'.
The pieces are made out of thin sheets of porcelain made to look like crumpled paper. Each sheet has Socrates' face silk-screened inside.
As the work is about Socrates' execution it seemed fitting that it was shown in association with Amnesty International (who also had a display in the Library this year) helping to highlight their campaign against capital punishment.
The talks were really successful and provoked much discussion and debate. So much so that all of the talks overran! I was particularly interested in the talk by Katherine Green and Mark Burton, two local professional documentary photographers who spoke of the political elements of their work.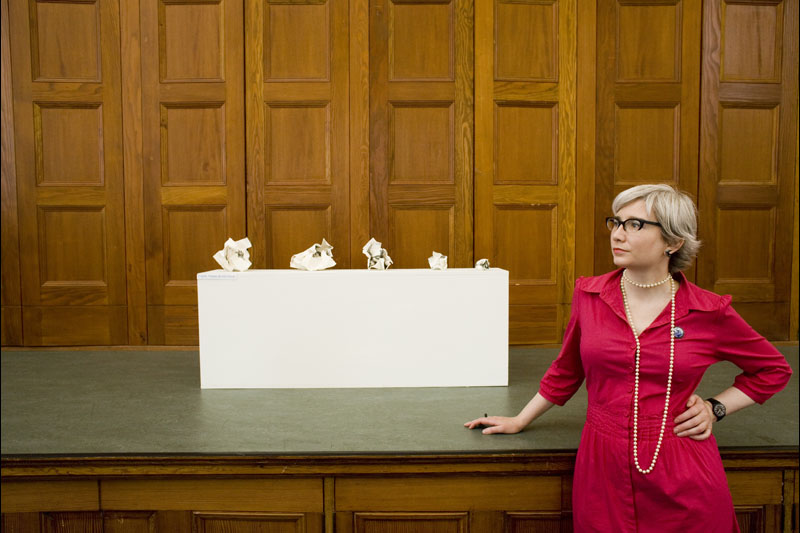 I also showed work in Walthamstow Central Library in association with Amnesty International, helping to highlight their campaign against Capital Punishment. The piece was called Socrates. Socrates was executed by being made to drink poison hemlock. The poison makes for a slow and painful death.
This slow demise is reflected in the work as each piece of 'crumpled paper' which has his face screen printed in it is more crumpled than the piece before until the final piece which is totally crumpled into a ball with one reproachful eye looking at us before he finally slips away.