News
E17 Art Trail 2015
Once again I am taking part in the E17 art trail, which is a summer event this time round.
You will find me at Venue 88, 54 Church Hill, entrance via the side gate in Woodbury Road. I shall be opening my studio to the public for a preview night and all three weekends of the trail. As always there will be refreshments available in the gazebo.
Preview evening on 28 May 6-9 pm
30/31 May 1-7pm
6/7 June 1-7 pm
13/14 June 1-7pm
To find out more about the trail and to plan your own trail go to www.e17arttrail.co.uk.
My work this year draws on inspiration from my grandfather's WWII memoirs, butterfly collecting and Swiss psychologist Herman Rorschach. The pieces on display - which have also been exhibited in the Tokarska Gallery - form two distinct groups of works with linking themes.
1. The Collector
This series of small objects, revealed as though just unwrapped in a tiny theatre of their own, all bear the names of moths or butterflies. The titles perhaps change how you think about the objects or how you think about the creatures thus named. Each piece has a different page from my grandfathers war memoirs silk-screened on (while the clay was still flat) using white clay slip.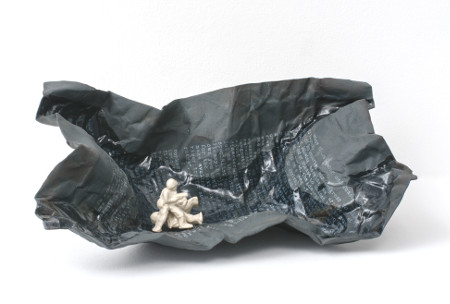 Soldier Danaus Gilippus Stoneware with coloured slips silkcreen print and glaze. Approx. L ,28cm, H, 11cm, D 16cm.
2. Rorschach Butterflies
This wall piece is based on the work of Swiss psychologist Hermann Rorschach who invented a test to examine personality and emotional functioning. The test consists of a series of inkblots where he put ink on a sheet of paper and then folded it in half making symmetrical blots of ink. The subject looks at the blots and says what they can see in them. On this basis a diagnosis is made.
In my version I imagine a butterfly and moth obsessive coming into contact with the Rorschach test and deciding they are all butterflies and moths. Why not? Who are we to say they are wrong, after all the blots are random. The titles of my version of Rorschach are not innocent however, as the real names of butterflies and moths I have used reveal human playfulness and over extrapolation on the part of scientists naming them; the 'Cynical Quaker' moth's name says more about human culture than anything integral to the moth itself.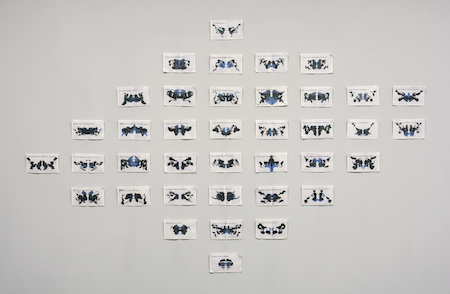 Rorschach butterflies Hand built porcelain with ceramic transfers.
E17 Art Trail 2014
I showed work in the E17 Art Trail in 2014, opening up the studio for the customary 3 weekends
Once again the trail was popular with 4000 artists showing in 170 venues.